you will start in new bark town,home to you,Ethen/Lyra, and Proffessor Elm.after your mom gives you a variety of things you will need for your journey,you have to go to Professor Elm's lab. If you look at the side of the lab,you will see a boy looking into the window of the lab. he'll just push you away.Go into the lab.Professor Elm says that you have to get the mystery egg from Mr.Pokemon. he will then give you a starter.
CHICORITA:lv 16- BAYLEEF,lv 32-MEGAINIUM.the grass type.grass types are easy to train. Plus,they can learn alot of status moves like sleep powder,poisen powder,stun spore,Etc. Most people say this is the best to go with due to its high defense.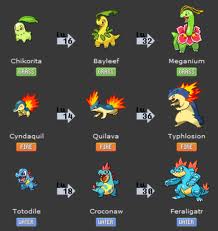 CYNDAQUIL: lv 14- QUILAVA, lv 36- TYPHLOSION.the fire type.fires types are not that ample in the game,so this is the only chance to get a fire type until after the 3rd gym.this pokemon will be hard to train,due to the lack of defense.Although it will help you with gyms due to it's type advantage against most of them.this pokemon is not the most reccomended,but it's your choice to pick it.
TOTODILE:lv 18-CROCONAW,lv 30-FERALIGATR.the water type.This pokemon will be useful in your adventure,due to the fact it can learn surf and waterfall.This pokemon is reccomended due to its high attack.
this is the first part of the walkthrough.Part 2 coming soon.
Last edited by pokemon4ever on Thu Aug 05, 2010 8:08 pm; edited 1 time in total